Upgrading your appliance
This guide refers to the upgrade process for installations of Dradis Pro v1.9 and newer (currently in limited beta testing). For instructions on upgrading earlier installations see our Upgrading your appliance [pre v1.9] guide.
Starting with Dradis Pro v1.9 the new appliance can be updated using your browser using the new Dradis CIC console.
New Dradis Pro releases come out periodically, allowing us to add new features or fix bugs we've discovered. You can upgrade to a newer release for your existing installation without losing any data or reinstalling.
1 Download the latest Dradis Update Package
The Dradis Update Package is a single file with .dup extension that you download from the the Dradis User Portal.
There might be a newer OVA image file as well, but it is typically not required for the upgrade unless otherwise specified.
2 Upload the
DUP

to your installation

You can use the Dradis CIC console to upgrade your installation. Browse to:


https://[hostname]/setup/upgrade

We recommend using Google Chrome for this since it does a better job at uploading large files (it also shows you a handy upgrade progress counter).
Click on Browse, select the .dup file you downloaded from the Portal and then on Upload.

Due to the size of the DUP file we recommend uploading from the same local network if possible.
Next you will see a series of messages indicating the outcome of the upgrade process. Do not refresh your browser at this stage: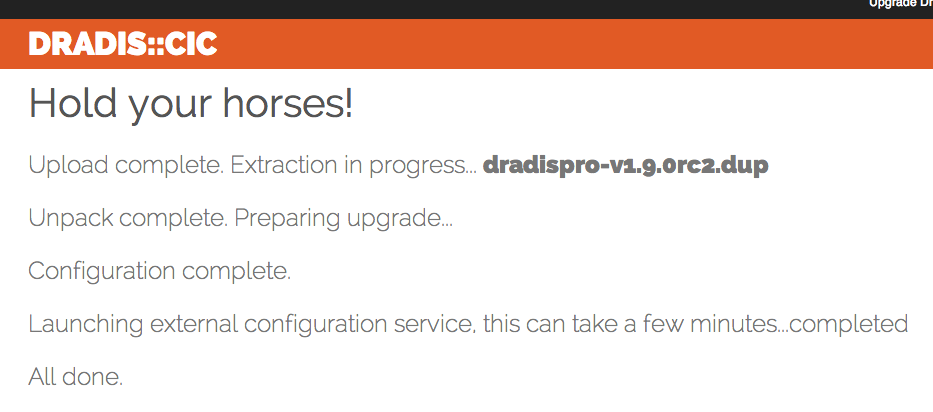 Once the upgrade process finishes you can browse back to the main Dradis Pro application: