dradis:professional
"Dradis Pro saves us
2 hours per report."
That's a quote from one of our customers. We help IT Security experts save 100s of hours each year.
Your job is to help others keep their systems secure. It's not about wasting time copying and pasting results. It's not about manually doing the same repetitive tasks over and over again. It's about your craft and your skills.
For every security review you perform, you need to make sure that:
Most of your time is spent doing the review and not with overhead like wasting hours preparing your findings for the final deliverable or aggregating results from multiple tools.
Your results are consistent every time.
Everyone in the team knows exactly what everyone else is doing so there are no overlaps.
Information is organized so you can keep the stakeholders outside your team updated with the progress you are making.
To make sure this happens, you need a perfect handle on your delivery process.
What if there was an easier way to achieve this?
We've been using Dradis Pro for over a three years now and it's really helped us speed up our testing and ensure that we're providing a consistent service to our customers. One of the best things is that it's a developing platform and great new features come along all the time.
How much easier would your job be, if you could keep all the information about the project in a single place, organized and readily available?
Imagine:
You could generate your report in minutes instead of hours.
All data, tool output, scope, results, screenshots, notes... would be in a single place.
You could define and use a consistent testing methodology in every project, and update it easily.
You could combine the output produced by your favourite tools, with your own manual findings and produce a custom branded report automatically with 1-click.
You could produce a report showing a snapshot of the project at any time, no extra effort.
... and as a result you had more time to learn, research and improve your craft!
In addition to all the benefits of having a cross-platform, secure and reliable application. No more never-ending email conversations and data scattered across systems!
Dradis Pro connects to the tools you are using today
and makes it easy to combine their output.
Having the right tools for the job is often what creates an effective penetration test. Unfortunately, each tool reports their findings in a different way.
With Dradis Pro, you can combine the output of all your favorite tools along with your own manual findings to create picture of the security posture of the environment, and of course produce a single report.
You will be able to work with these fine tools:

Burp Suite
Nessus
NeXpose
Nikto
Nmap
OpenVAS
OSVDB
Qualys
Retina
SureCheck
w3af
MediaWiki
wXf
Zed Attack Proxy
But the framework is extensible beyond what ships out of the box. You can connect Dradis Pro with your own tools to fully integrate it into your existing workflow.
For example, you could extend the framework to:
Provide your findings in a machine-readable format for clients that require it.
Send information and stats to your existing dashboards and front-ends systems.
Connect Dradis Pro to any pre-existing or legacy systems you currently need.
...
Join our customers who have rescued hundreds of man-days of productivity each year.
We've been working on the technology behind Dradis Pro since 2007. Over the years, we have helped hundreds of Infosec professionals like you to become more effective and spend less time doing busywork.
The industry is very competitive, and we can't name all of our clients, but a picture speaks louder than a thousand words. We serve customers in these countries: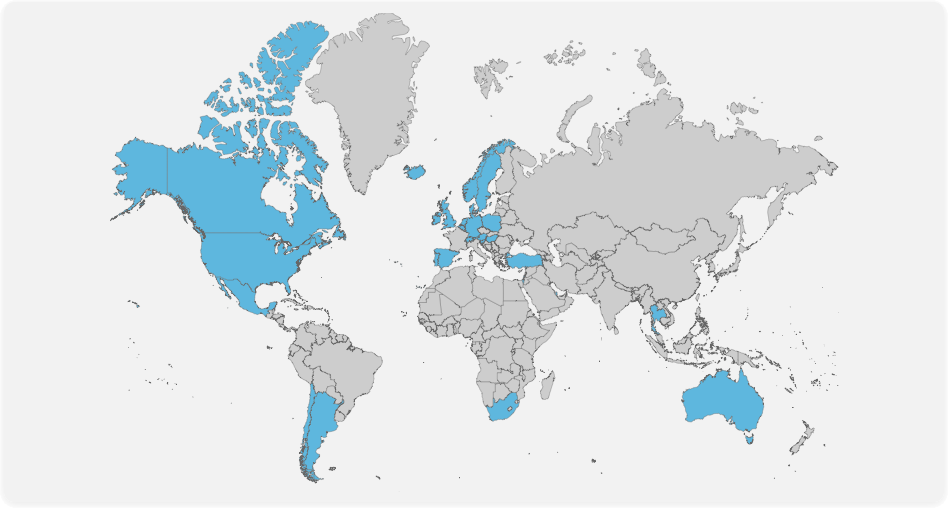 Start generating reports automatically right now!
Don't worry, Dradis Professional Edition comes with an unconditional 30 day money-back guarantee.
If you're not absolutely thrilled with our software, we don't deserve your money.
Simple pricing
$49 / month
Includes 3 seats
One-click Word reports
Combine output from 15 different tools
Use testing methodologies
Annual payments
Get started now
Next: Enter number of user seats
Additional seats: $12 / month
We also have a plan for Consultants and Freelancers (1 user, $39/mo)
Dradis Professional Edition leverages the advanced features of the Dradis Framework and extends it to enable multiple teams to work concurrently. In addition to a web application that provides a centralised repository of information to keep track of what has been done during an assessment, Dradis' features include the ability to create methodologies, create custom plugins, tool-to-company mapping modules, and even the ability to integrate with vulnerability databases. And lest we forget, the ability to automatically generate a consistent professional report at the end of your assessment efforts.

Dradis Pro is a game changer. We use it regularly to track our assessments and gather artifacts for the reports. Before, we had spreadsheets, lots of emails and lots of wasted time. Now, we seamlessly integrate team members, often working remotely, and have gained in efficiency and profitability.
Dradis Pro saves us 2 hours per report, as well as reducing our review and QA time. I'm surprised how easy it was to adapt and start using our own report template if I'm honest!